Hiya.
Real quick, my progress on the art thing from yesterday.
Gettin' it done piece by piece little by little.
—
I read Curse Words #1, by Charles Soule and Ryan Browne.
A new comic series about an evil wizard, named WIZORD, who chose to live his life in modern day New York City. All the while, he claims that he is there to help them.
Ryan Browne is also the creator of God Hates Astronauts, a series I fucking love and one of the many comics I made sure to track down EVERY trade collection and single issue of.
And yes, that IS Charles Soule who wrote Curse Words. It all came full circle, dawg. I WISH I had read some of Soule's comics back then. If only I knew what I do now, which is how awesome of a writer he is.
Unfortunately, I have enough on my plate for the time being.
But enough of that shit… BLACK HAMMER GIANT SIZED ANNUAL #1, DUDE!
My favorite section of this issue was the Golden Gail flashback with her greaser boyfriend, Rex Pacer, in which he takes part in a drag race. It was drawn by Dustin Nguyen while the whole issue was scripted/written by co-creator Jeff Lemire.
The series will return on March 22 with Black Hammer #7, and I am so fucking stoked…!!
Finally, CAGE! #4 by Genndy Tartakovsky.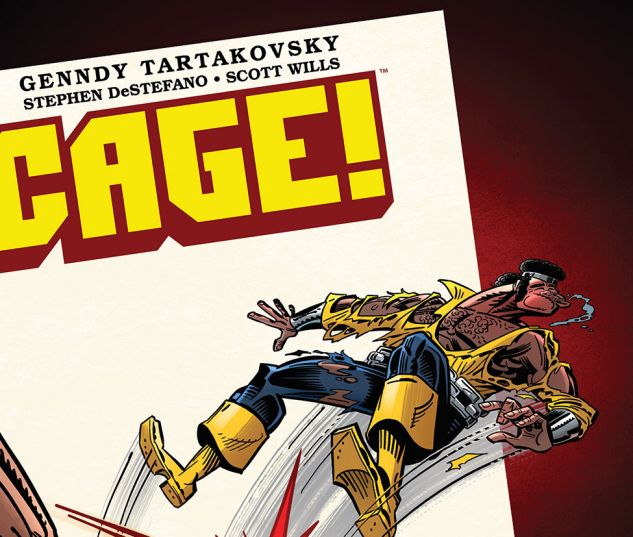 Another psychedelic adventure for Luke Cage, but the highlight of the issue was this little exchange between the antagonist Professor Soos and the Hero for Hire himself.
That is just fantastic.
I think theres another issue after this one, but I'll have to double check during the next trip to the comic shop I frequent (since I always could be SUPER WRONG).
—
Now I'm gonna get back to arty stuffsss.
I might sleep, but I'm also hungry, too. Huh.
Later daze.