'The 21st Century Schizoid Man will now be the NEW protagonist. Look for his own solo series next year.'
Totally not a lame joke. Believe in my solid Epitaph.
—
I found the time to read Box Office Poision Color Comics #2. Hell YESSS.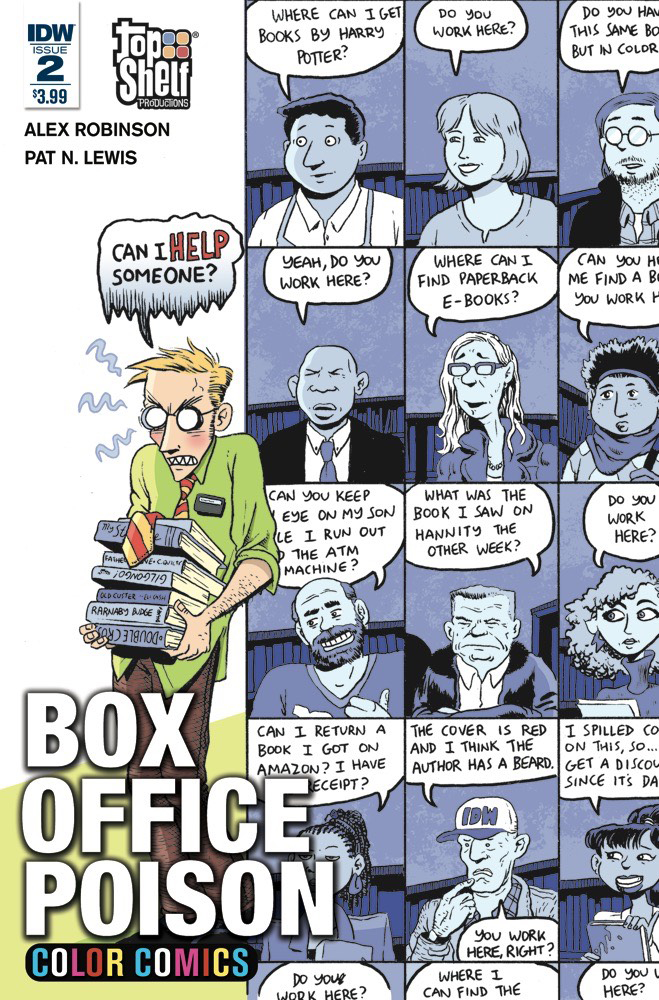 This comic is great.
The characters act like real people would, and feel like they're out in the world somewhere having a drink in their living room.Probably since Alex Robinson based the characters in the book store that the protagonist interacts with on real people.
I can't WAIT for that next issue, dude.
…
Although, what I CAN totally wait for…
Invincible #132… HMMMM…
I've been reading this comic since its first issue, and what I can say without a doubt:
"Fuck you, Mark Grayson."
"You are such a selfish asshole, oh my GOD." 
He is the main hero of the series, and a fleshed out character with human traits to boot.
Mark left his own world to go back to the past. Having a brand new chance to make things right. He was gone for 5 years in his own world's time, but in the past it was only 3 weeks.
That being said:
FUCK YOU.
YOU DOOMED YOUR WHOLE WORLD JUST TO SAVE YOUR NONEXISTENT CHILD.
YOU MASSIVE FUCK UP. 
WHAT THE HELL IS WRONG WITH YOU? 
YOU MIGHT AS WELL HAVE JUST STAYED IN THE OTHER WORLD YOU FUCKING IDIOT.
THEN YOU WOULDN'T EVEN HAVE THIS HEARTBREAKING EXCHANGE.
OR THIS ONE EITHER. DUMB ASS.
YOU WERE BETTER OFF STARTING OVER, AT LEAST THEN YOUR GIRLFRIEND ATOM EVE WOULD STILL HAVE WANTED TO HAVE A KID WITH YOU ANYWAY!!
God, I loved these characters and some I never stopped at all.
Just… end this series already. I don't even think I care anymore at this point either to stop you…
—
And a preview of the piece I've started working on again:
Gonna take some work to get it right. Change some colors while I'm at it, too.
Maybe sleep at some point. Dunno.
Later daze.