Hiya.
Been a while, dawg.
I did the following:
Looked for a new apartment, got tentacles tattooed to my right arm, storyboarded, binge watched Making a Murderer, job hunted, acquired a nasty cough, and viewed Hellboy for the fifth time on Netflix.
Also went up to Columbia and visited my Mom for her B-Day. Made this as a present to her with water color, and framed it, too.
Kanji on left means Perseverance. 
Kanji on the right means Hope. 
—
Since it was St. Valence's Day an hour ago, I tracked down this movie from 1993 I've wanted to check out,called Necronomicon: Book of the Dead. Shit Yeah, bro.
Watch the whole movie on YouTube here. 
Its great, and Jeffrey Combs is incredibly underrated in it as H.P. Lovecraft himself.
\
Not as on point as this bloke to be fair.
—
In keeping with the spirit of a few hours ago, I read Empowered and the Soldier of Love #1.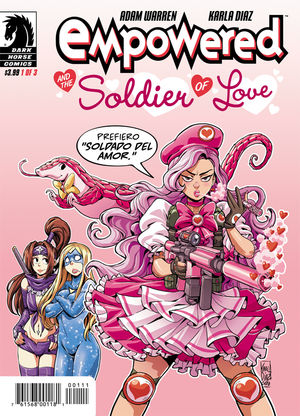 I've always liked Empowered, yet the first time I read it I was caught unaware with how  sexual it all was. Then I read it again, and the satire I didn't catch before was just perfect.
And once more I now want to go back and read the same trade (I think I still have it) again. The way the antagonist plays with the constant changing of superhero relationships is just hilariously absurd.
This page had me grinning ear to ear:
You said it, Emp…
—
The DVD of this flick has been sitting on my shelf for the LONGEST TIME and I aim to watch it after all this time…
I've heard over and over that it isn't Lovecraft's best story of all time, but a damn killer movie regardless. Imma gonna talk about what I thought of it tomorrow.
Sleep is next on the list, along with those storyboards left to actualize.
"Oobashaaaa!!!" 
-Purple Haze 
'I ain't dead yet.'
Later daze.